Introduction – What is Jaaxy?
---
Jaaxy is a Keyword Research Tool software program from Kyle and Carson the owners and developers of Wealthy Affiliate and was designed to help subscribers to carry out Keyword Research, but in addition to this, Jaaxy also has a host of other features, which we describe in this post.
The most powerful functionality is available in the Enterprise version of Jaaxy. Jaaxy is also available FREE for trial, following which users can subscribe to the PRO version of Jaaxy (recommended by OMS).
To subscribe to Jaaxy go to this link here.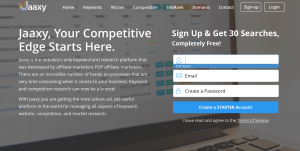 Jaaxy is the standard Keyword Tool offered within Wealthy Affiliate, so WA subscribers already have basic access to this powerful tool.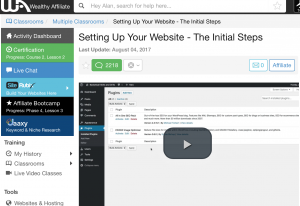 What Is The Purpose Of A Keyword Research Tool?
---
Generally, the main purpose of a Keyword Research Tool is to identify and confirm the following three things, in relation to the keyword phrase for the market niche which is being researched:
The competition for the keyword phrase.
The traffic for the keyword phrase.
To confirm that the keyword phrase makes grammatical sense.
Desirable Features Of Any Keyword Research Tool
---
Regarding desirable features of Keyword Research Tools, when appraising options and comparing alternative solutions, take account of the following:
Avoid solutions which need to be installed.
Avoid solutions which offer PCC Guesstimates.
Avoid solutions which rely on Alexa as a key factor in determining competition.
Avoid anything which requires multiple steps or searches in order to arrive at the answer.
Avoid tools which do not give results from all search engines, i.e. Google, Yahoo, Bing.
The Jaaxy Keyword Research Tool – What Are It´s Capabilities?
---
OMS has used Jaaxy for Keyword Research and found this to be the most capable keyword research tool we have tried, which also does a lot more for your money, as we explain in our post below.
In addition to Keyword Research, users can also identify Domain Availability, so that they can purchase the most suitable Domains for the Keywords which they have identified. Jaaxy displays the usual .com, .org and .net availability, .com being the most preferable option.
Additionally, Jaaxy can be used to carry out research into Market Niches.
Also, Jaaxy can be used to carry out research into Affiliate Program availability. So a member having identified their market niche, can research the available Affiliate programs for that niche, identify the products which are currently being marketed, and which of these has affiliate programs, and by comparison of all of these, identify and rank the most profitable Affiliate Programs. Jaaxy has access to more than 15,000 Affiliate Programs!
SEO Competition – Jaaxy can provide search results from any keyword which is entered. So by researching each of the identified websites one by one, a member can display results from Google, Yahoo and Bing, and all three combined, which covers approximately 99.7% of all Search Engine coverage!
From the detail of each website being researched, a member can display invaluable information about backlinks, Alexa rankings, word count, links on every site, meta keywords and meta descriptions. Armed with this comprehensive information, a member can prepare a plan to outmanoeuvre their competition.
Rankings – these are available for Google, Yahoo, and Bing, and can be constantly monitored and updated, thus keeping track on progress on process improvement. A member can automatically track their keyword rankings, for example, twice per week, or weekly, twice per month, or monthly.
All of the above-combined capability and features mean that a member can be Master of Keywords, which is the foundation for online business success.
What Is The Cost of Jaaxy?
---
There are three price levels for subscribing to Jaaxy. Amazingly there is an unlimited time Free trial membership, which gives a new subscriber 30 free searches on Jaaxy (not the usual time-limited trial period), which is plenty of opportunities to try out its capabilities.
To join Jaaxy as a Pro Member at $19 per month or $199 per annum gives a subscriber a very powerful version of Jaaxy with which to carry out the amazing functionality which is described above.
The Enterprise Membership level of Jaaxy costs $49 per month or $499 per annum and gives the subscriber the most powerful capability available.
See below the table which shows the respective functionality available with each level of membership.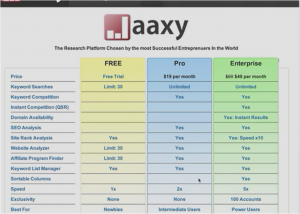 OK, That Sounds Good, But Is Jaaxy Easy to Use?
---
I will explain how easy it is to use Jaaxy by showing some screenshots of the software program.
From the Jaaxy Home Page, a member can enter a Keyword of their choice.
See the example keyword which we entered and searched for Hand Made Silver Jewellery, and the list of suggested relevant Keywords which Jaaxy displayed, along with other relevant related keywords.
What Are The Alternatives to Jaaxy?
There are a few alternatives to Jaaxy Keyword Research Tool:
Moz.com
of tools in its SEO Toolbox, including Moz Keyword Explorer, a
keyword
research
tool
that provides keyword suggestions, SEO competition, opportunity
We have not yet tried out Moz, but will do so and post our review in due course.
Webfire.com
We have reviewed Webfire software, so go
here
to read our review.
KeywordTool.Io
Pros". forbes.com. Retrieved 13 October 2016. "KEYWORDTOOL.IO
KEYWORD
RESEARCH
TOOL
". cpronetwork.com. Retrieved 13 October 2016. "KeywordTool.io
We have not yet tried out KeywordTool.io, but will do so and post our review in due course.
OMS Conclusion And Recommendation
---
From review and our use of Jaaxy over several months, we would have no hesitation to recommend Jaaxy as one of the best available Keyword Research Tool.
Everyone should try out the FREE version of Jaaxy to ensure that they understand it, and that it will meet their requirements.
We recommend the use of Jaaxy PRO version for all professional users, as a minimum.
For POWER users we recommend upgrading to Jaaxy Enterprise version.
To subscribe to Jaaxy go to this link here.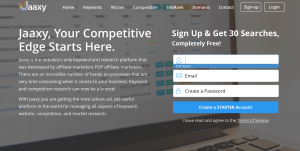 SaveSave
SaveSave
SaveSave
SaveSave
SaveSave
SaveSave
SaveSave
SaveSave
SaveSave