How To Build A 7 Figure SEO Company From Marketing Inc. 2018
Marketing Inc. is one of the companies owned by Glenn Allsopp, who is an expert in Search Engine Optimisation (SEO) and generation of organic traffic. Under the banner Marketing Inc., Glenn Allsopp offers to show you How To Build A 7 Figure SEO Company and Land $5k Clients (Even If You Never Did It Before).
Glenn Allsopp says he is motivated and has made it his mission to help others to succeed and is happy to share his methods in order to help you to achieve the same level of success that he has, for a modest return.
He says that he provides Actionable Advice for you in order to learn SEO, which is a sellable service. This is the basis of the training from Marketing Inc. and they offer to show you how to build a 7 figure SEO Company. However, you have to take action after receiving the training in order to make it work!
Ok so if you need an SEO Company, which is the best one?
And how would I choose an SEO Company?
Who is Glenn Allsopp?
Glenn is originally from Newcastle, England, and started his online journey in 2007, after he left school when he was 17 years old. You can read his story in his own words here.
He left college in Newcastle and travelled to Capetown in South Africa and started working for a company there on Search Engine Submissions, the terminology at the time for Search Engine Optimisation (SEO). This was for an SEO company who had many big-name clients, such as:
Land Rover
Nissan
Hewlett Packard
Bacardi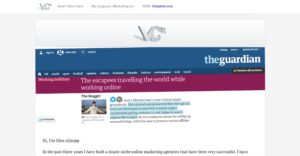 Glenn learned his profession there over many years and although he has been hailed as an overnight success, as he himself modestly states, it took him 11 years to achieve his present level of successful achievement.
Glenn tells his story as follows:
Viperchill was set up by him in 2006, at which time Glenn had just 17 articles on his website. He struggled for many years to make a success of his business and never received any offers of work from his initial website. He did, however, receive an offer of employment in South Africa, from a private message on a forum to which he contributed, which enabled him to start learning the SEO and organic traffic business.
Glenn started to look into success stories in the Search Engine Submission field (as it was known then, not SEO).
He came across NPE (Net Profit Explosion), which specialised in SEO for personal fitness trainers and gym owners. They operate and specialise in only that niche, no other.
He set up a company which targeted businesses in Singapore, and got commissions from clients such as Alibaba, and AXA Life Insurance, and generated an SEO marketing business with revenue of more than $60k per month.
Glenn says that the secret is that potential clients see the Niche which you are advertising as your specialism, and they think that you are the ideal company for them because you specialise in their niche.
Glenn Allsopp has successfully started 11 digital agencies in various niche markets, so he is one of the leaders in his field of Search Engine Optimisation (SEO).
What is The Marketing Inc. Offer All About?
Glenn Allsopp offers to teach you his marketing methods so that you can find Clients and offer them your SEO Company services under your own Marketing Agency, from which he claims that you can earn very high fees.
Glenn´s recommended strategy is to find existing websites which are deficient and approach the companies concerned in order to analyse their websites and identify problems and issues for them to fix,  so as to optimise their sites and make them work more efficiently and generate organic traffic.
Various testimonials are shown where past students have achieved great success within a short period of time, using the Marketing Inc. methodologies.
Is There A Real Market For This Sort Of SEO Service?
Glenn shows the statistics which demonstrate the size of the SEO marketplace as being more than $180bn and growing strongly.
There are 170k new websites being created every day on the internet, which is 7,000 every hour, and 118 new websites every minute. All of these new websites are competing, with the existing websites, for the top 10 places on Google rankings.
The number of clients is therefore always increasing and is practically limitless.
If you do not want to do the actual work yourself, you can outsource it using such resource websites as Fiverr.com and Upwork.com. There are currently more than 4000 jobs for SEO advertised on Upwork.
This business can be operated using any language in the world, and examples are given of the following successful companies using other languages than English:
Rockcontent.com operates in Brazil and uses the Portuguese language, and a sales revenue of $1.4m and use 250+staff.
Intracto.com is a Dutch company with a sales revenue of more than $10m.
Archimedia is an Italian company with a sales revenue of between $20k and $50k per week.
IDS Agency is a similar size company to Archimedia.
Changes in Google rules and criteria can create opportunities. For example, Google has banned Banner Advertisements for Cryptocurrency, which means that companies in that niche must find ways of finding organic traffic from SEO, in order to attract prospective companies.
Glenn gives his advice on what are the top ten niches for SEO agencies in 2018, which are listed in reverse order below, No 1 being the best niche of all:
10. Automotive Niche – (Either motor cars or motorcycles)
Examples of successful agencies are:
FoxDealer with a sales revenue of approximately $18.7m in 2017, who have experienced a growth rate in the region of 6000% over the last 3 years.
PureCars specialise in building websites for the Automotive niche.
L2T Media has a sales revenue of approximately $50m, and have experienced a 61% growth rate over the last 3 years, specifically promoting SEO.
There is lots of scope in this niche for sub-niches such as Detailing, Repairs, Rentals and Dealerships.
9. Dentists
There are more than 195,000 dentists registered in the USA, and there are some marketing agencies which specialise in this market, such as:
ConversionWhale, which is less than 4 years old and already has more than 400 clients.
Progressive Dental Marketing which has experienced 146% growth during the last 3 years.
SmartBox Web Marketing deals with Local SEO and has experienced approximately 300% growth during the last 3 years.
8. Publishers
It is a tough time for the Publishing Industry with the furore about Fake News.
Google News has shown a 477% increase in traffic for SEO.
Examples of specialist SEO Marketing agencies in this niche are:
Polemic Digital
Clickseed -a solo SEO agency who deals with Rolling Stone Magazine, Nasdaq, and Kiplinger.
There is lots of content, and you can fix things to optimise client´s websites so they can dramatically improve their SEO.
7. Local SEO
There is a great variety of industries in Local business and many different specialities, so there are massive opportunities for any marketing agency. It is variable depending upon which country and which specific location you are in.
Statistics show that an average customer will spend in the region of $50k per annum.
It is a huge market, which will only grow more in the short term.
6. Gym Owners And Fitness
Gym and Fitness is one of the most profitable niches, and the following are some of the specialist agencies in that market:
NPE – sales revenue $7.2m in 2016.
LYFE
5. Lawyers
There are many thousands of legal practices and they are in an extremely profitable niche, with sub-niches such as injury claims, PPI, employment law, mediation, divorce, Trust Law.
Rankings.io is a leading company in this niche with $179k of new business, on top of their existing recurring income, and have experienced 385% growth during the last 3 years.
Midmark Media had a sales revenue of $2.4m in 2017 and have experienced 500% growth during the last 3 years.
FindLaw deals solely with Lawyer marketing to 17k Law firms, with a dedicated focus on SEO.
4. Non-Profit Organisations
NextAfter has increased their sales revenue from $2.5m in 2017 to $3.8m in 2018, and have experienced 3-year growth in the region of 700%.
Idfive – have increased their sales revenue from $5.6m in 2017 to $7.7m in 2018, and significant growth during the last 3 years.
Rescue – have increased their sales revenue from $25.2m in 2017 to $68.6m in 2018, and their growth rate during the last 3 years was 416%.
Companies in this niche can afford high customer acquisition costs because once a customer has donated once, there is a high probability that they will donate again regularly thereafter.
3. E-commerce
This is a very lucrative niche, in which the following marketing agencies specialise:
Visiture – had a sales revenue of $2.6m in 2017 and experienced 236% growth during the last 3 years.
Boost Marketing – had a sales revenue of $10.9m in 2017 and experienced 227% growth during the last 3 years. This company has only 6 employees, so has a massive revenue per person.
Outerbox – Had a sales revenue between $5-10m in 2017, and experienced a growth of 83% during the last 3 years.
2. Content SEO
There are many aspects to this niche, including preparing fresh content as well as editing old content and optimising for SEO.
Seige Media – Specialise in offering content which ranks, have a sales revenue of $3.2m per annum and have experienced 39% growth during the last 3 years.
Demand Acceleration Trifecta – has a sales revenue of $29m and has experienced growth of 839% during the last 3 years.
Growth Machine – Has a sales revenue of $85k per month and is less than 12 months old, just on providing SEO focussed content marketing.
1. CryptoCurrency
The cryptocurrency market is in a deep depression at the moment. Bitcoin value is down from $19k at its peak to around $6700.
However, there are lots of people who believe that the cryptocurrency market will bounce back and they are preparing for such a recovery.
ICO Benchmarking is one company who are specialists in this market. One of their packages is on offer from $240k!
There are 19 pages of service providers in this market niche.
The Google ban on cryptocurrency banner advertisements means that their sales businesses are suffering. People are still searching online for cryptocurrency products, and so the companies will offer their services using SEO optimisation principles.
What is Provided by Marketing Inc. As Their Offer?
Glenn Allsopp offers to teach you exactly how to do SEO and learn his wildly successful methods.
There are 7 reasons for any client to use your services as an SEO consultant.
Almost every website has technical issues which can be improved in order to optimise the site for SEO.
Glenn recommends that you offer the same service that he does, which is to identify issues with the subject website and to document them for the Owner of the website to address and correct, so as to optimise his website.
The regulating document for all the optimisation of SEO is the current Rules And Guidance from Google, the latest edition of which is dated July 2018. This document contains approximately 200 Rules which dictate how the Google algorithm works.
An example is a need for SSL on all sites.
Many sites still do not comply with this requirement. It is not difficult to find these non-conforming sites and to contact the owners in order to offer a service to correct that, and any other deficiencies or issues which may be found.
How to Find Sites Which Do Not Have SSL?
Glenn Allsopp explains how you can use a simple Google search to identify those websites, in any niche, which is not compliant using the code in the search:
inurl:http
Using SimilarWeb enables you to check all competitor websites for their features.
Once you find a suitable client who wishes to use your services to identify and correct their issues and problems, then you have an opportunity for either one-off or recurring income.
How Much Is The Training Offered by Marketing Inc.?
Glenn Allsopp offers a package of the following training from Marketing Inc.:
1. Video Training – 24 hours, explains the whole method which Marketing Inc. recommend.
2. Content – More than 100k words are available to be used and adapted for your site.
3. Forum – Access to the Marketing Inc. Forum, with more than 29k posts displayed and stored there, and access to all other members and users.
4. Templates – Availability of standard templates for Proposal, Site Audit and Client Outreach.
5. Success Stories – Access the marketing Inc. database of success stories.
The whole package is available for a one-off reduced price of $997.
A payment plan is available and you can pay either over 4 or 6 months, but the cost is significantly more than the one-time payment.
Glenn Allsopp offers a 60-day guarantee and says he will reimburse 110% to anyone who has not achieved at least $5k in terms of sales revenue within that time.
OMS Conclusion And Recommendation About The Marketing Inc. Offer
We recently became aware of Viperchill.com and its owner and founder Glenn Allsopp, from Dylan Reiger who is a successful affiliate marketer at Wealthy Affiliate, being ranked in the top 100 members.
Dylan Reiger recommends Viperchill.com when he explains how he found success with his online businesses in one of his blog posts, which you can read here.
Having watched some of the videos from Glenn Allsopp, we can see that his methods are novel and undoubtedly successful from the results which he can prove from the success of his various businesses (12).
We think that this offer from Marketing Inc. is worth trying as it is priced at $997 one time payment.
Glenn offers a 60-day money back guarantee, and even says he will give back 110% of the purchase price if you do not achieve success and find at least one $5k client for your business using the methods which he uses. Remember though it is not just a matter of watching the videos, you have to take action as well.
If you have experience of Marketing Inc. and training from Glenn Allsopp, then please let us know what you think about it.