Introduction To Best Review Of Dan Lok DanOnDemand – 7 Skills That Will Make You Rich
In this Best Review Of Dan Lok DanOnDemand – 7 Skills That Will Make You Rich, we will analyse what is included in this offer from well-known entrepreneur and successful businessman Dan Lok.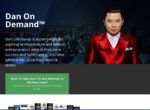 Who Is Dan Lok?
Dan Lok is a Chinese Canadian businessman and successful entrepreneur who has offered many other packages and in this case, he offers ¨DanOnDemand¨ his trademarked training package for overall success in business.
c?
DanOnDemand is a 12-month training program specially prepared by Dan Lok and tailored for you.
When you buy this product from Dan Lok, you will receive the following:
12 months access to Dan Lok via Facebook
Recordings of all Dan Lok´s live training events wherever in the world they occur
Mindset training
Also, You will see Dan´s own explanation of the DanOnDemand – 7 Skills That Will Make You Rich, which are specifically:
1. Closing Skills – Do you have the ability to ask powerful questions that compel people to buy from you?
2. Public Speaking Skills – Do you have the self-confidence to be able to speak to groups, and present your ideas concisely and clearly and convincingly to them? Do you have the same public speaking skills as famous people like Steve Jobs, Tony Robbins, Warren Buffet? Dan Lok learned such public speaking skills early in his career when he joined Toastmasters International in order to improve his public speaking skills and overcome his accent as English was not his first language.
3. Copywriting – Can you draft and write or type persuasive copy which will influence readers and encourage them to buy from you? An example of a leader in his field with such skills is Anik Singal of LURN Nation.
4. Communication clearly and effectively – Can you articulate your Vision for your business to your team? Do you have the Leadership skills to encourage people, especially your team, to follow your example?
5. Priority Management Skills – Can you manage your time effectively so as to achieve what you want and need to achieve. Part of this skill is to know when to delegate lower value tasks and activities so that these are carried out by others in your team so as to free up your time for the higher value tasks.
6. Financial Literacy – Can you read and understand Financial Statements, can you determine Profit and Loss, Return On Investment, Simple and Compound Interest etc.
7. Mindset Skills – Do you have the ability to manage your mindset and overcome doubts about uncertainties, depression and anxiety. Arguably this is the most important feature to be able to make you rich because, without the right mindset, you will be unable to move forward all your business ideas to conclusion into rich rather than poverty zone. Dan Lok refers in his own promotional video to the book called ´Think And Grow Rich´ by Napoleon Hill.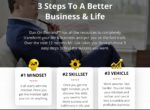 Dan Lok offers to make you a Better Business and Life in 3 Simple Steps:
How Much Does DanOnDemand Cost?
The cost of the DanOnDemand training package is $1995 for a 12-month course.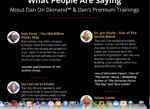 There are many endorsements for Dan Lok´s DanOnDemand 7 Steps That Will Make You Rich:
Are There Testimonials for DanOnDemand from Dan Lok?
Dan Lok provides many Testimonials for his DanOnDemand course, among which are the following big names: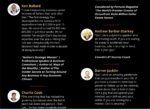 OMS Conclusion And Recommendation for Dan Lok´s DanOnDemand – 7 Skills That Will Make You Rich
We have not personally tried out DanOnDemand – 7 Skills That Will Make You Rich.
We are a little sceptical whether such a training program can actually make you rich. Why do we say this?
There is a lot of similar motivational training around which you can pick up for free. You dont need to commit to such an outlay in order to read books and watch videos.
What Dan Lok provides is a package and a structure within which you can learn and hopefully profit from Dan Lok´s teaching.
Have you tried Dan Lok´s DanOnDemand – 7 Skills That Will Make You Rich? If so, write and let us know what you thought of it. Maybe it will enable us to re-evaluate this package.