Introduction to Lipperhey Free Search Engine Optimisation Service
Lipperhey is a new entrant to the marketplace for keyword research and is a very good and efficient Free Search Engine Optimisation Service. Lipperhey claims to be the Most Comprehensive Free SEO Service, which we recently became aware of. It enables you to identify how healthy your website is in SEO terms, and make improvements to it, and optimise for SEO.
We have just started to try out the Free version recently and do not yet have extensive experience of its usage, nor of the full functionality available from the business version of Lipperhey.
Who Are the Authors And Founders of Lipperhey Search Engine Optimisation Service?
The Owners and Authors of Lipperhey SEO Service are:
Gijs Barens – A former director of Isobar Communications, and co-founder of IProspect in The Netherlands.
Christian Branbergen – A software developer and former founder of Inobe software, who previously successfully developed the health software MyCalorieCoach.
Marc Noet – A former Director and founder of Isobar Communications in The Netherlands.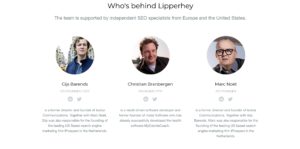 What Are the Features of Lipperhey Search Engine Optimisation Service?
Here is a video from Christian Branbergen of Lipperhey which refers to the Beta version of the software and describes an overview of the functionality and capabilities and pricing of the Lipperhey SEO service:
When you set up an account with Lipperhey, you can see your dashboard where all your useful statistics are displayed conveniently in front of you. You can take a tour of the system in order to familiarise yourself with its capabilities.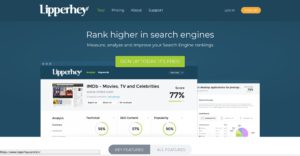 Fundamentally Lipperhey SEO Service analyses your website first using one of its spiders to crawl the site and prepare a status report known as an Improvement Report. Lipperhey has 100 spiders available and at its disposal for crawling of websites, and downloading pages.

From the Improvement Report, you can identify Quick Wins in order to improve and optimise your website. You are also given an Excel file with the Improvement Report information on it in tabular form.
Lipperhey SEO Service can identify 35 topics for improving your website´s score in Search Engine Optimisation and gives you a Score Card for each website.
What Are the Costs Of Lipperhey SEO Service?
You can use the FREE version of Lipperhey indefinitely, which gives you limited functionality.
If you upgrade to the Business Version of Lipperhey, priced at $99 per month you can analyze up to 50 websites, and make comparisons with competitor websites.
Improvement Reports are priced at $75 each. Comparison reports are priced at $15 each.
You can buy credits for use of the Lipperhey SEO service, which can be stored on your personal account.
You can use a Debit or Credit card to purchase credits. Alternatively, you can use a coupon to pay for Lipperhey SEO Services.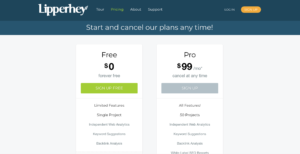 What Are The Pros And Cons Of Lipperhay Search Engine Optimisation Service?
Pros
You can use Lipperhey Free version indefinitely for free.
You only need to start to pay when you upgrade to the business version and this allows you much greater functionality.
The Business Version enables you to analyze up to 50 websites.
The Business Version has much greater functionality, which we need to further understand.
There are no contracts, so you can stop your subscription, whether free or paid at any time.
Cons
There is not an intermediate pricing level for Lipperhay between the free version, and the business version which allows you to process 50 websites, so you must decide at what point the $99 per month subscription is viable for you.
What Do Other Users Think Of Lipperhay Keyword Research Service?
Here is a review and testimonial for Lipperhey SEO service from Yellow Pages, who point out the common technology used between them and Lipperhey.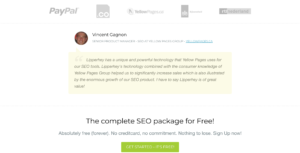 OMS Conclusion And Recommendation Regarding Lipperhay
We are still evaluating Lipperhey and will continue to do so for a while yet.
Do you have any experience of Lipperhey SEO Tool? If so, please share it with us, as we would be very interested to find out about your user experience and how you find the functionality of the software.
For the time being, we think it is an amazing tool since you can get it and use it indefinitely for FREE!