Introduction: Review Of Squirrly WordPress Keyword Research Tool 2019
Squirrly is a WordPress SEO Plugin and keyword research tool which is available at very reasonable cost, depending on the scale of use, and therefore subscription level needed for your organisation. You can try Squirrly for free for a period of up to 30 days, before deciding which level of subscription you need, click here.
Keyword research is a practice search engine optimization (SEO) professionals use to find and … Keyword suggestion tools usually aid the process, like the Google Adwords Keyword Planner, which offers a thesaurus and an alternative keyword …
Refer to the OMS Guide to Keyword Research for E-commerce 2018, for more information about the application of keyword research for your business:
https://onlinemarketingsoftware.org/oms-guide-to-keyword-research-for-ecommerce-2018/
Are There Other Products Which Do The Same Job As Squirrly, What Are My Options?
Here is an article by Neil Patel which lists a number of FREE keyword research tools which are available to assist you:
There is also another keyword research tool called Jaxxy which is worthy of consideration. It is not free, but is available at a reasonable cost. Here is the OMS Review Of Jaxxy Keyword Reseach Tool:
What Does Squirrly Do That Is Different To The Competitors?
From our research and experience of the use of the Jaxxy keyword research tool and comparing this with use of Squirrly, the key differentiator is the Real Time Optimisation feature present in Squirrly.
For example, we show you below a screenshot of Squirrly in use: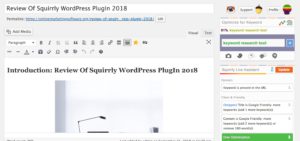 On the right-hand side of the document being edited is a table of the respective criteria to be optimised.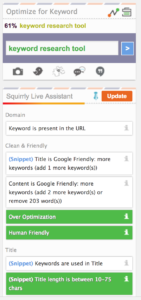 % optimisation for keyword chosen
Squirrly offers relevant suggestions for Images, Twitter feeds, Wikipedia definitions, references and quotations, which you can choose to ignore, or you can click and insert within your post.
This feature is very powerful and saves the author a lot of time!
As each criterion is achieved the box turns green
Other Reviews Of Squirrly Keyword Research Tool
From research, we have found many favourable reviews of Squirrly and no adverse reviews at all.
However, Squirrly does not feature at all in the top 10 Keyword Research tools in 2018 assessed by 127 experts, consolidated by Robbie Richards.
Nevertheless, we found some favourable reviews of Squirrly on youTube:
Most users and reviewers agree that the dynamic optimisation of keywords by Squirrly is the main differentiator between it and its competitors.
How Much Does Squirrly Cost?
Squirrly is available at 3 levels of subscription:
There is a free plan,  a Pro Plan priced at $29.99 per month, and A Business Plan priced at $71.99 per month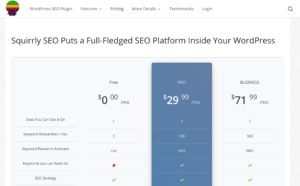 What Are The Pros And Cons Of Squirrly?
Pros
We found that Squirrly was extremely user-friendly, and especially liked the dynamic update feature, which gives you a green for go display as you solve issues with your article or post.
You can cancel Squirrly at any time, should you choose to do so. There are no contracts, so you are not committed to Squirrly for any period of time
You don´t need a credit card to sign up for your free trial of Squirrly.
Cons
We haven´t found any yet but will keep looking and let you know in due course.
OMS Conclusion And Recommendation: Review Of Squirrly Plug-In 2019
We have been using the Squirrly PlugIn since August 2018, and have found it of great benefit for optimising our posts and articles for chosen keywords.
The live interaction and updating as the user edit the post means that there is immediate notification to the user about the status of the post, and a very clear % optimised display.
You can work on a post and edit keywords and other key features such as Meta titles, Meta Descriptions, and Alt image titles, whilst gradually improving the status until it is 100% optimised.
We recommend Squirrly, and feel confident that we reached the right conclusion because Neil Patel also recommends Squirrly Keyword Research Tool and WordPress Plug-In as well!
Click here to try Squirrly for yourself. (This is our affiliate link for Squirrly, so we will receive a small commission if you join from our link).
There is also a Squirrly Black Friday/Cyber Monday offer as well click here.