Introduction – Review Of Neil Patel: How To Generate 1.7m Visitors For SEO Success
Neil Patel blogs frequently about Search Engine Optimisation (SEO), and regularly explain in various forums, blogs and podcasts how his company NeilPatel.com can help subscribers and customers to improve their SEO success and ratings substantially.
Neil explains that his methods and techniques for SEO Improvement of traffic from Google, Bing and Yahoo, will work for all types of business, such as B2B, B2C, local businesses, or e-commerce businesses.
Neil spends NO money on paid advertisements.
Neil explains that he has a very small team of people working for him and his businesses which are currently:
NeilPatel.com, Crazy Egg, Hello Bar, and Subscribers.com.
Crazy Egg and Hello Bar can be used to collect email addresses.
Subscribers.com is a free SEO service available to anyone.
Neil explains how he is very successful at SEO and has ranked very high compared with older and more established competitors, who have greater resources at their disposal.
You can see the video here.
He ranks number one and two on page one of Google for the keyword term ´online marketing´, and is ranked on page 1 of Google at #4 for the keyword term ´Search Engine Optimisation´.
His organic search value has been evaluated at more than $2m per month, even though he spends no money on paid advertising.
Neil explains that you need to do a lot of investigation and analysis with regard to your own website and its competitors if you are to win the race for SEO success. Further, he states that the principles of SEO have not changed for many years even though there are now new platforms such as Facebook and Youtube, which were not around in the early days of SEO.
Firstly, Think Like A Detective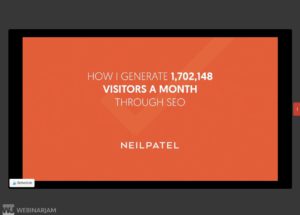 Competition is everywhere, so you need to find out what are the best keywords to use because keywords are not just for traffic generation. The value is in identifying those keywords which generate sales or conversions.
You need to find out which keywords your competitors use for their conversions, and decide on a plan of action how you will generate your own sales.
Neil suggests the use of SEMRush and Ubersuggest as good keyword research and SEO tools for this purpose.
Keywords should not be too broad, such as the term Search Engine Optimisation, which has far too much competition. there are more than 111 thousand
However adding one word to make it into a long tail keyword Search Engine Optimisation Company, will make a massive difference.
In summary, you need to focus on keywords which are relevant to your own website.
You can use Ahrefs.com to analyse your competitors' links and try to emulate them or improve on their strategy on your own website. Find out who is liking your competitor´s website.
Buzzsumo is also useful for this purpose.
Secondly, Think Like A Journalist
In order to achieve SEO success, you need to create content!
Neil Patel recounts one of his successes with a random niche called nutritionsecrets.com, which he took from scratch to 120,000 visitors per month to that website.
You can use the tools available from Google, specifically Google Search Console, in order to identify search Traffic, Search Analytics and identify Click Through Rate (CTR) and Impressions.  Selecting Pages will show all the top performing posts with a CTR of more than 5%. Those posts with a CTR of less than 5% will show the most potential for improvement, so these are the posts which you need to concentrate on. Look for keywords with a low CTR and adjust keywords in Title Tags as well. Once you have adjusted keywords in your Title tags, re-submit your URL to Google, Fetch and Render.
Thirdly, Think Like A Monk
Google wants to rank sticky websites. In general, this mode of thinking is ´Less is More´.
To help you with your analysis of how sticky your site is, use Subscribers.com, which creates browser-based push notifications for your visitors.
Neil uses as an example, the website SmartPassiveIncome.com, which he helped to take to more than 487,000 visits per month, with more than 93,000 unique visits.
Subscribers.com is Google friendly and uses Google Analytics in the Chrome Browser toolbar. Google monitors return visits to your site.
You need to think about your link building strategy as well.
Fourthly, Think Like A Circus Trainer
Here, you need to think about the encouragement of your visitor using a Lead Magnet offer in return for their email address. Such a Lead Magnet could be a PDF file, a checklist or spreadsheet or other useful documents, even an E-book.
You can use HelloBar to create a Lead Magnet, or ClickFunnels, or LeadPages, or BounceExchange.
Sometimes you will need to do some more research about what it is that your ideal customer is looking for, so you need to consider the use of Surveys (use SurveyMonkey or BuzzSumo) to ascertain exactly what is needed.
You need to consider from where you get your traffic, and how many visitors come from Social Shares, how many from Backlinks, and how many from repeat customers.
You can use Quicksprout.com for a step by step guide on how to define this or consider Chefworks also, which features a discount coupon.
Fifthly, Think Like A Scientist
SEO is like dating – you don't ask someone to marry you on a first date.
You need to think about how the relationship between you and your customer develops during the time period between pre-sale and post-sale.
Use Ubersuggest to generate keyword ideas for SEO, it will possibly give you more than 1000 keyword ideas.
Look for 3-word keyword phrases – for example ´search engine optimisation´ is far too broad, instead choose ´search engine optimisation company´ or ´London search engine optimisation´, which will return a much less competitive score.
Use Action or Power Words such as:
How to….

Lists (numbers)….1,2,3,4,….

Free…..

You….

Tips about…..
After optimising your post and website, you will need to Fetch as Google and resubmit your sitemap, Fetch and Render then wait up to 30 days for Google to re-crawl and adjust your rankings.
Lastly, Think Like A Winner
Here you need to be smart and innovative and look for mentoring. The best sportspersons and business people have all received mentorship in order to help them to achieve their current high status. Therefore you need to consider investing in such training, coaching and mentorship so that you can learn from the best.
Neil quotes numerous examples where he has helped companies such as Alana Mitchell, SkincarebyAlana.com, where he increased traffic significantly to more than 150,000 visitors per month using SEO.
Similarly, MuscleForLife increased its traffic to more than 400,000 visitors per month, with Neil Patel´s help, even though it is a seasonal business.
Also, Legion Athletics, which is an e-commerce store, increased its traffic to more than 350,000 visitors per month under Neil´s guidance.
Google has more than 200 ranking criteria, and probably only 20% of those criteria result in 80% of the results.
Neil Patel acknowledges the thinking and expertise of Brian Dean from Backlinko in SEO success.
OMS Conclusion And Recommendation
If your company is Venture Capital Funded, or has a revenue of more than $3m per annum, or has a regular marketing budget of more than $10k per month, then you are encouraged to get in touch with NeilPatel.com, with a view to discussing how they could possibly help you increase your traffic and SEO performance.
Neil Patel cites lots of examples of companies which his agency has helped to further SEO success.
He further recounts a friend and former colleague who he quotes as saying that the role of the CEO of any company is to:
´Find people who are smarter than you to help your business to increase its value and worth.´
It, therefore, makes sense to hire an agency who is expert in doing such things, rather than inefficiently apply your own resources to that task if they do not have as much expertise.
For those of us who do not yet fall into that category of successful business, Neil Patel encourages that you continue to learn best practice in order to achieve SEO success on your own. There are lots of sources of information and advice, including his own videos, podcasts, forums and newsletters.
The notes from Neil Patel´s video on How To Generate More Than 1.7million Visitors Per Month are available on his company website NeilPatel.com/notes.
Our own recommendation is to follow guidance and advice Neil Patel, as he is the undisputed market leader in the race for SEO Success.
If you need training on SEO Optimisation techniques they are taught at Wealthy Affiliate, and you can read our review here. You can sign up for FREE to try it out indefinitely, click here.