Introduction To T-REXecom Review
T-REXecom Megastore is an e-commerce online marketing software platform marketed by Greg Writer and Randy Parker, which was launched in 2017. They offered a pre-made online TREXecom Mega-store pre-stocked with more than 2,500 products. They also offered a TREX Mini-store which is similar in concept but has fewer products. This post is a T-REXecom review which will update on what has happened during the last year or more since the launch.
Who Is Greg Writer?
Greg Writer is an Entrepreneur and Public Speaker who has championed the cause of entrepreneurs for the last 15 years. Greg was at the age of 21 years the youngest owner of a bank in the United States of America.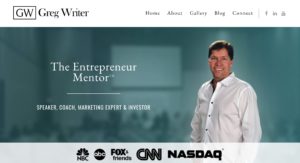 Greg Writer is a founder and major shareholder of Celebrity Lifestyle Brands, in partnership with Burnt Ullman, and Randy Park the owner of Print Tech Corporation. They are the owners of the T-REXecom platform.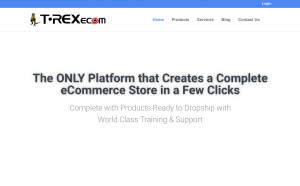 T-Rexecom Platform
The software used by the T-REXecom platform is a WordPress based funnel system, and is fully supported, and offers alternative DIVI Themes and adequate plugins, so it is completely self-supporting and members do not need additional software systems. Members can choose to use email management by MailChimp which is integrated with the T-REXecom platform.
There are many training videos available to help with set up of the store and also with the marketing of T-REXecom products on Facebook, or other social media. The T-REXecom store owner prepares marketing and advertising Campaigns consisting of several products which are offered to potential purchasers in their niche.
Fulfilment of the supply and delivery of the drop shipped products is done by PrintTech Inc, who is based in Hannibal Missouri, where they have a 165,000 Sq. Ft. storage and production facility. So rather than drop shipping fulfilment from China, T-REXecom offers worldwide fulfilment from the USA.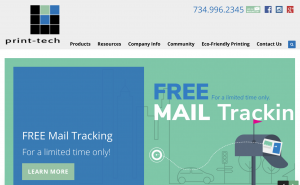 Another powerful feature of the T-REXecom Megastore is that it offers personalised messages and designs on many of the products which they offer, via PrintTech Inc´s Print On-demand facility. For example, there is a range of LED night lights which can be personalised for children.
Similarly, there are many special products for Christmas which can be personalised, such as mugs, sweaters and Christmas stockings, also wine glasses which are etched with the family name, also the usual sweaters hoodies and T-shirts, as well as Canvas Artwork.
The original offer of T-REXecom Mega-Stores was for them to include the following features and functionality:
T-REX personalisation engine
T-REX Optin Page Builder, tied to the Personalisation Engine
T-REX Survey and Quiz Builder
T-REX Notification Banners Top And Bottom Of Your Site
T-REX Coupon builder
T-REX Exit Pop-up Creator
T-REX PrintTech account management (free)
Greg Writer claimed that the value of all the above plug-ins and functionality is equivalent to $630 per month if using Shopify.
Future Plans
Work was ongoing in late 2017 to integrate Slingly with TREXecom to offer even more powerful bespoke designs and personalisation, but this has now been abandoned.
Now in August and September 2018, there are plans to roll out LaunchCart, in which T-REXecom subscribers will be entitled to credits if they wish to transfer and upgrade. However, the monthly cost for LaunchCart will be around 3 x higher than that for T-REXecom. at $300 per month, versus $100 per month for T-REXecom.
Summary of Key Facts and Features
T-REXecom is an e-commerce platform and online business community which is dedicated to selling its own drop-shipping products, although members can also sell their own products sourced from their own suppliers if they choose to do so. PrintTech confirmed they will fulfil delivery of Megastore and Ministore owners products for a handling fee.
A powerful feature of the T-REXecom platform is that it can offer extensive personalisation of products bought from the site, using PrintTech´s Print On Demand graphics software and printing facilities.
T-REXecom products are fulfilled by PrintTech Inc which is based in Hannibal Missouri, so they offer very quick drop-shipping times to the USA and also worldwide when compared with drop-shipping times from China-based fulfilment companies.
T-REXecom was founded by its owners Greg Writer and Randy Parker, who also runs PrintTech Inc the company which fulfils drop-shipping orders for T-REX e-commerce. T-REX is now owned by Celebrity Lifestyle Brands, whose major shareholders are Greg Writer and Burnt Ullman.
Key Performance Indicators:
Training: 4.9/5
Support: 5/5
Website Builder: 4.9/5 (Website is Done For You by TREXecom, using your own domain name)
Word-press Hosting: 4.8/5
Research Tools: 4.8/5
Success stories: ?/5
Online Marketing Software rating: 1/5 NOT RECOMMENDED TO PURCHASE
Link:https://www.Trexecom.c…
Table of Key Facts and Features of T-REXecom:
Cost: $1997 for T-REXecom Megastore, was $2497, and $1497 for T-REXecom Ministore (check current pricing directly).
T-REXecom Training:
Extensive training videos are provided and a step by step set of instructions/advice which explain the full detail of the e-commerce platform software system on which T-REXecom is founded.
Also extensive training in marketing especially Facebook is provided via videos within the system knowledge base and also by weekly seminars every Monday, Wednesday, and Friday, with Ask the Expert Question and Answer sessions on each Tuesday and Thursday.
There are support groups on Facebook and other platforms such as Skype.
Content building for Campaigns and Products as well as Collections of Products is done using WordPress, and many Plug-ins are provided within the system, so it is totally comprehensive and no other software is needed. MailChimp is supported, although members can elect to use other email management systems.
Many different Divi (website) themes are available free to Members, as well as the facility to import their own themes if they prefer.
Software Updates/Development and Support: TREXecom has a team of IT technicians working in the background who maintain, update and develop the systems constantly.
Support:
Support is available to TREXecom members 24/7/365 days a year from a number of sources (see below for details).
Effectiveness and Capability of the Product:
TREXecom has recently been re-launched, and it is being further developed to appeal to more users, and potentially rival the major platforms such as Amazon and Shopify. It will be re-branded as LaunchCart.
It has a number of unique features which are specific to TREXecom giving their members particular advantages. For example, TREXecom members own and build their own businesses, using the TREXecom platform, therefore, can build their own email marketing lists.
Amazon, on the other hand, owns all the customer emails when selling on their platform, and can compete with their Affiliates, and even close down their operations and offer their own rival products.
TREXecom members have all the software within their platform to do the necessary marketing of their products, with no additional monthly charges.
Shopify owners, on the other hand, have to pay a monthly subscription to belong and are charged extra for many apps which are necessary to sell efficiently on their platform.
Training and Support
Training is offered via webinars, held Monday Wednesday and Fridays, together with Ask the Expert Question and Answer sessions which are held Tuesdays and Thursdays. Additionally, there are many videos about the software as well as marketing training within the knowledge base.
There is a Facebook users group which provides an online community for support, and new releases are announced here and files made available to subscribers.
There is also a Skype user group for live Question and Answer sessions.
Support tickets can be raised for any technical queries directly with the T-REXecom support team and these are responded pretty quickly, usually.
T-REXecom held a conference in October 2017 in San Diego California for their members, and this event offered extensive and intensive training in marketing over three days, and fielded a panel of online marketing experts who gave individual presentations to the audience, and who participated in a panel of experts who were available for live Question and Answer sessions. At the end of the three-day conference, there was a boot camp to review and receive training on the software itself. The event was excellent and was fully recorded so that non-participants are able to receive copies of the videos for their own training purposes.
Other boot camps are held every month at the Printexinc facility in Hannibal Missouri for member training and familiarisation, and a Europe Bootcamp has been suggested for Spring 2018.
Benefits of the T-REXecom Support:
T-REXecom Support is available to members 24/7/365 using any of the following features, and experience of use indicates that the community as a whole is extremely supportive.
1) Live Chat – this feature allows members to raise queries and problems online and seek guidance from other members and leaders.
2) Support tickets can be raised for specific queries and logged with T-REXecom.
3) There is a Facebook community and support, and new products and information are announced therein and can be downloaded from there if required.
4) There is a Skype user group and community as well so that peer support and guidance is available from fellow members, also contact with mentors within T-REXecom.
Independent T-REXecom Review
Kevin Anderson is an experienced marketer and look at his T-REXecom review where he explains how it worked for him:
Here is a TREXecom review from a subscriber who made $4500 from their TREXecom store:
OMS Conclusion T-REXecom Review
What a difference a year makes!
We invested in a T-REXecom system Megastore a year ago, which at the time seemed a good idea based on what was being offered and claimed by the company.
Now, we have a worthless Megastore, for which we paid $2497, and don't know what we can do with it.
T-REXecom is now being called a PlugIn, by Greg Writer, what´s that all about? $2497 for a PlugIn??? I must have been stupid.
I also invested in a trip to San Diego for the T-REX launch and Bootcamp, for which I spent a week in a hotel in San Diego, and expended several thousand dollars.
During the last year I never made any sales through T-REXecom.
Maybe the problem is my end as Kevin Anderson made T-REXecom work for him.
I tried to do so and learned about Facebook Ads, and invested in some of these, but the cost of FB Ads for conversions became prohibitive.
I also got very busy on other things so suspended my membership from January to September 2018.
Now T-REXecom is being transitioned into LaunchCart which is available at extra cost. Supposedly T-REXecom Megastore and Ministore owners are to be supported, but we wonder for how long this will last.