Introduction – Best Review Of Clickfunnels – Sales Funnels Made Simple
ClickFunnels is a popular and market leading Sales Funnel software program marketed by Russell Brunson and the ClickFunnels team based in Boise, Idaho. Clickfunnels provides many standard template sales funnels as well as standard email templates and unique and powerful customer and traffic management software, in its enhanced form.

What Does ClickFunnels Do?
ClickFunnels is a modular type of Funnel Building system, Sales Funnels Made Simple, which enables a user to quickly build any type of Sales Funnel from pre-prepared (pre-coded) modules, which you just push together, drag and drop style.
You do not need to be able to use HTML code in order to use ClickFunnels, so it is easy for any average person with no coding experience to quickly and efficiently produce fully functioning Sales Funnels.
There are numerous standard templates and files provided within ClickFunnels which enable a user to quickly adapt the standard templates to their particular requirements for Landing Pages, Sales Pages, Thankyou Pages, etc etc.
Additionally there are two modules of powerful extra functionality which are not available in the basic ($99 per month) subscription, which are called Actionetics and Backpack.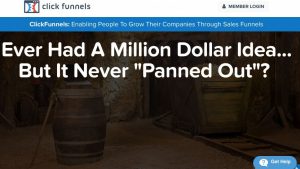 Actionetics
Actionetics is a smart module which is available within ClickFunnels, which allows a premium subscriber ($297 per month) to send unlimited emails and have unlimited funnels. It deals with optimizing visitor and customer traffic to your website. It differentiates customers and visitors to your website based on their online behaviour and their individual profile and resources and capabilities. It acquires information about each visitor and builds a unique profile of every customer based on their own personal attributes, such as email address (initially) then age, gender, interests, as well as their social media profiles on Facebook, Twitter, Instagram, etc and also even their income bracket.
Actionetics uses SMART ANALYTICS CODE embedded in order in the website in order to accumulate all the above information on each and every visitor to the website and gives each customer a PERSONAL RATING which assesses how much this customer is of value to your business. This customer database and categorization allows the formulation of unique sequences of contact to each customer including bespoke emails, postcards, and also personal telephone contact with target customers at particular times. It is incredibly powerful!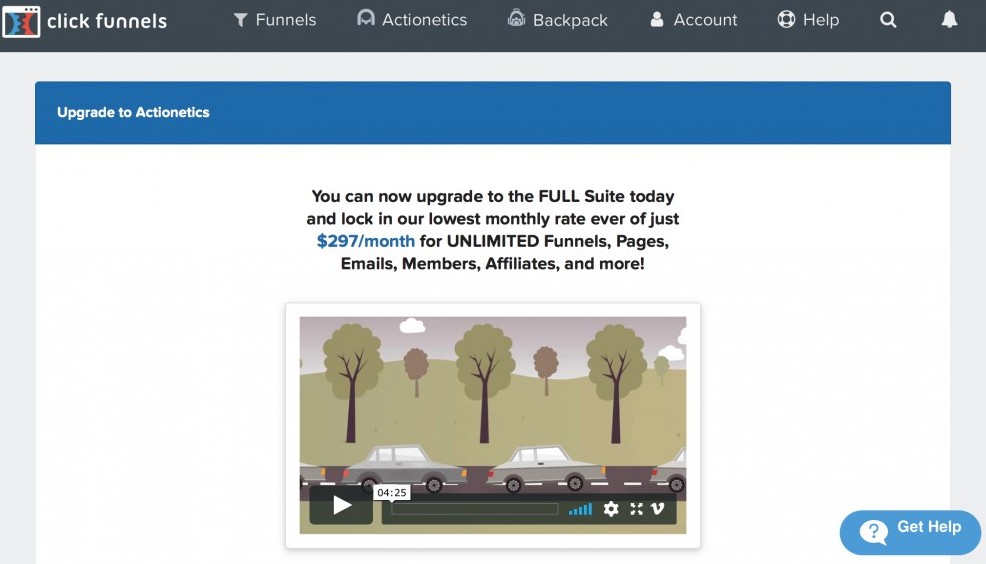 BackPack
Backpack is another smart module within ClickFunnels, which is available to Premium subscribers ($297 per month) which analyzes the Shopping Trolley end of the business and works based on three rules:
Taking the Order/ Adding the Product to the Shopping Trolley
Sales Processes, including Multi-step order forms
Promotion – the driving of traffic and Affiliate Program
This Backpack module is also extremely powerful!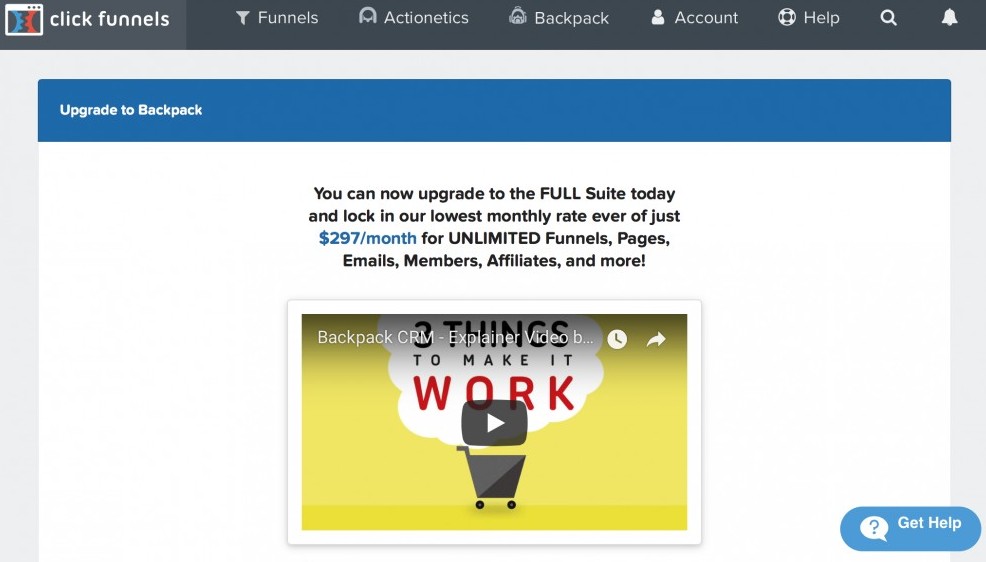 What Does ClickFunnels Cost?
There are two different rates of payment for usage of ClickFunnels on an ongoing basis, beyond the 30 day Free Trial.
The lowest Basic Subscription rate is $99 per month for the individual or small business user, with limited functionality, a pretty reasonable cost for Sales Funnels Made Simple.
The Premium Subscription rate for ClickFunnels with full functionality software including Actionetics and Backpack is available for $297 per month.
What is the difference between the lower and upper subscriptions, and why should I pay more?
There is a lot of difference between the lower and upper subscriptions to Clickfunnels in terms of functionality except that the higher level provides much more online storage of your funnels, for larger users.
You are limited to approximately 20 sales funnels with the lower subscription, whereas the higher subscription gives you unlimited storage, as well as enhanced software.
See above regarding the additional powerful modules Actionetics and Backpack, both of which are only available to Premium Subscribers, not to Basic Subscribers.
Why Is ClickFunnels Better Than Other Similar Funnel Building Software?
Competitors to ClickFunnels are Infusionsoft, and not only any other Funnel Building software packages but also to some extent ClickFunnels covers the functionality of email management software packages such as Unbounce, LeadPages, MailChimp, AWeber, Hubspot. You really need to define your precise Clickfunnels templates and SEO and customer management needs from the software, then match it with whether you need the Basic or Premium subscription with the Actionetics and Backpack modules. there may be more than one possible software architecture to solve your problems.
Because ClickFunnels is widely used in the online marketing software industry it is possible to easily interface with other users and Sales Funnel authors. We have specific experience of adopting sales funnels which have been pre-prepared by another author and downloading them and storing them in ClickFunnels for our use.
Does ClickFunnels Provide Training?
ClickFunnels provides good training on webinars which you can join weekly, or by viewing pre-recorded training videos. We have tried out and used this training over several months and it is very comprehensive and thorough and can improve your technical capability at funnel building.
Additionally, ClickFunnels offers intensive Bootcamp training at their Boise Idaho offices, but these can be expensive at around $10,000 to receive training to become a ClickFunnels Certified user. Having said that you can receive recommendations for consultancy commissions which can quickly make back the money you have invested in the training course. There is no shortage of customers wanting to use ClickFunnels.
Does ClickFunnels Provide Good Customer Support?
ClickFunnels provides excellent online customer support and we have not had any irresolvable problems during the time we have been using the software. The response is usually provided within a few hours of raising them during normal US working hours.
OMS Recommendation Regarding ClickFunnels
We have been using ClickFunnels, Sales Funnels Made Simple, for more than 6 months now and are very impressed with its ease of use and capability to quickly produce any type of sales funnel from the numerous templates which are available.
The cost of ClickFunnels is $99 per month at its most basic level, then $297 per month for the full functionality version, so the cost can be economical and viable even for small businesses.
If you have a need to quickly and efficiently produce sales funnels for your company or your clients, we would recommend that you try the 30 days free trial of ClickFunnels.