Introduction – Slingly Review
Slingly is an e-commerce online marketing software package owned by Ricky Mataka, which works on the Shopify platform.
Who Is Ricky Mataka?
Ricky Mataka is a highly experienced marketing veteran with a lot of different sales and marketing campaigns to his credit.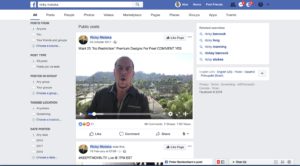 We have seen Ricky Mataka speaking at the TREX conference in San Diego at the end of October 2017, and he certainly is an impressive speaker. He obviously knows a lot about marketing and gave good advice about strategies for marketing TREX products using Facebook Ads, also other methods which had worked for him to give big sales revenues and profits over many years.
Some Other Independent Opinions for Slingly Review
Our Own Experience of Slingly
We subscribed to Slingly on 19th October 2017, after hearing a TREX webinar presentation which made it sound like they had a very saleable set of products, with unusual designs, and were expecting to get a Done For You store within a week or two as per the sales pitch.
After a few weeks, nothing had happened so we chased things up through the support desk at Slingly. It appears that our order had been overlooked, but they promised to get on the case.
After several more weeks, we chased things up again and eventually received the website completed on 13th December 2017, almost 2 months after we paid for our subscription.
We were charged the $100 monthly subscription payment to Slingly, for November, even though we did not have our store operational.
We also paid all the usual charges to Shopify ($39 per month).
In December our credit card expired so the regular payment was not taken as normal, and we needed to update our payment details for the new card. We received an email from Slingly which stated that they had tried to take our payment five times, and because of the non-payment, our subscription was cancelled.
We replied pointing out the delay in the completion of the Done For You website and received a curt response saying that access to our site was denied until the payment problem was resolved.
We responded again stating that we had expected a better response to our earlier message pointing out the delays in completing the website build and thanking Slingly for missing the Black Friday and Cyber Monday date with their site build, also effectively missing the Christmas sales season because they only gave us access in mid-December.
Anyway, Slingly has taken our access away, so we now have to decide whether to continue with Slingly and pay up for what could be more poor service. or alternatively write off the total purchase payment which we have made as a poor choice, and not continue with Slingly at all.
Does anyone else have experience of Slingly (previously Commercify), and if so what was your purchase experience like?
There was also an aspiration to link Slingly with TREX, which was a possibility for a few months, then that aspiration disappeared as well so there is even less reason to subscribe.
OMS Conclusion And Recommendation
We can't really see any reason to recommend Slingly, from our own experience. Maybe our experience was not typical? We don´t know.
Maybe you have a different experience and can recommend Slingly, or even do your own Slingly Review.
If so, we would be pleased to hear from you about it, so please share your experience with us.
SaveSave
SaveSave